Slot-die heads | Industrial series
Our industrial series slot-die heads are state-of-the-art coating equipment. Each coating head can be designed to fulfill special needs of width and viscosity. Produced from some of the hardest steel in the world, the material undergoes meticulous processes to provide stable and ultra-precise accuracy. After many years of innovation, we provide coating equipment with very low dead-volume, elegant change of coating width within defined ranges. The steel surfaces are specially treated to resist most chemicals and constructed for an easy clean to prolong the durability and lifetime of the product.
Industrial series |
Custom made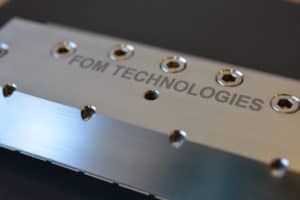 Let's talk about how we can help you
Want to learn how slot-die coating can help you get consistent and scalable research results?
FOM Technologies coating equipment supports cutting-edge research into 3rd generation solar cells, OLED and electrochromic devices, fuel cells, batteries, sensors, membranes, printed electronics, medical diagnostics, conductive thin films, and more.