FOM in flexible & printed PV development
FOM Technologies lab- and pilot-scale slot-die coating tools make it easy to develop and demonstrate scalable manufacturing of printed and flexible PV devices, without the burden of bulky, conventional slot-die coating lines. Our tools mimic industrial roll-to-roll and sheet-to-sheet coating equipment, while fitting into a convenient benchtop form factor and requiring just a few milliliters of solution to begin coating.
Our roll-based tools enable simple process development on flexible substrates, while our sheet-based tools offer excellent coating control on both rigid and flexible materials. Thanks to the non-contact nature of the slot-die coating process, all our tools are compatible with both smooth, polished substrates, as well as rough surfaces such as textured Si wafers for tandem PV applications.
Our slot-dies have received years of optimization towards excellent flow properties and chemical compatibility with even the harshest printed solar inks, such as low pH PEDOT formulations, while offering low dead volumes to minimize hazardous material exposure and costly material waste.
Heating of the syringe, slot-die, and substrate enables excellent control over solution viscosity, solubility, and drying behavior, while our air knife accessory allows for advanced perovskite processing via N2 quenching.
Our simple laptop interface gives excellent control over key experimental parameters and enables easy operation of our tools inside a nitrogen or argon glovebox. Finally, when you've optimized your proof-of-concept coating samples, we make it easy to transition to full roll-to-roll coating with our customizable pilot lines.
FOM PV roll-based, sheet-based and
roll-to-roll coating solutions
FOM Technologies provides high-quality slot-die coating machines produced in Scandinavia. Our cutting-edge equipment enables researchers, scientists, and professionals, to discover, develop and commercialize new functional materials for a cleaner and more sustainable world. We strive hard to ensure that our products always are innovative, reliable, and cost-effective.
Entry level |
FOM nanoRC
The ideal entry point to begin the scalable coating of functional thin films and devices. 
Intermediate level |
FOM arcRC
Designed to mimic industrial roll-based coating in a lab-friendly format.
Entry level |
FOM scalarSC
Designed to allow easy control over coating on both rigid and flexible substrates with ease through the integrated touchscreen.
Intermediate level |
FOM vectorSC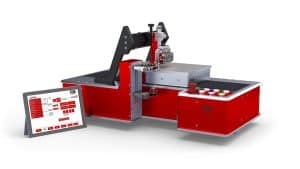 Ideal solution for users aiming to bridge the gap between fundamental research and pilot-scale production, with an emphasis on versatility for a wide variety of substrates.
Advanced level |
FOM alphaSC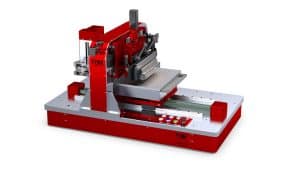 The ultimate combination of control and functionality in thin-film research and production. All hardware, software and premium features have been tailored to eliminate errors and increase usability. 
Advanced level |
FOM sigmaR2R
A lab-size roll-to-roll slot-die coating machine. It consists of unwind, rewind, 2-zone oven, and adjustable slot-die positioning around the coating roll.
Advanced level |
FOM alphaR2R
A unique slot-die coating solution with sheet-based and roll-to-roll based capabilities. It represents the ultimate combination of control and functionality in thin-film research and production.
Advanced level |
FOM moduloR2R
The FOM moduloR2R makes it simple to design the perfect production line for a particular process, representing an ideal first step from R&D to full-scale fabrication.
Let's talk about scaling your solar research
One of our experts will reach out and help you find the most suited equipment based on your needs.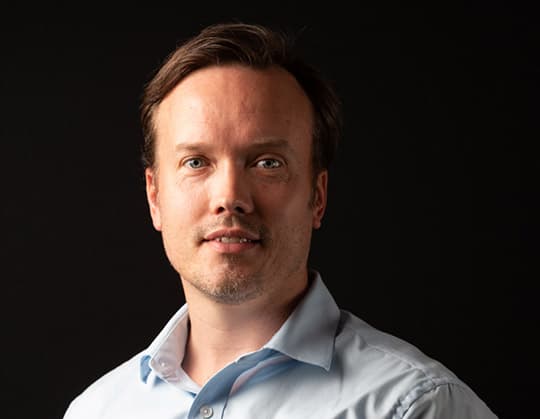 We are ready to assist you
Martin Kiener, CIO & Founder
The limits of conventional PV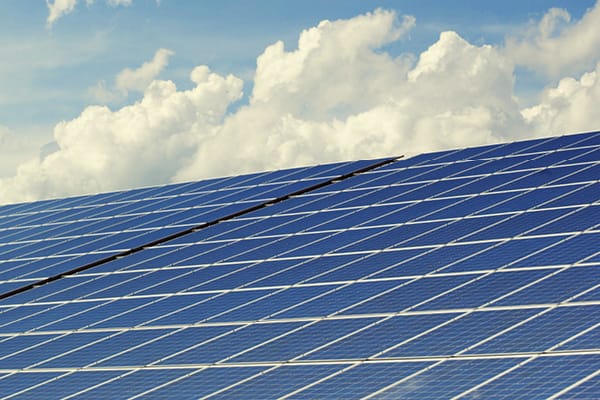 A wide variety of photovoltaic devices have been demonstrated since the 1800's, though modern silicon-based solar panels have only risen to prominence since their discovery at Bell Laboratories in the 1950's. Today, Si-based PV dominate the market, boasting low production costs, power conversion efficiencies (PCE) around 25%, and a typical expected lifetime of 25 years.
While these benefits have been critical to the rise of solar power, Si-based modules also exhibit notable drawbacks. Energy-intensive manufacturing, heavy weight, physical rigidity, and a theoretical maximum PCE limit of 29.8% are all limitations that have spurred research into next-gen PV devices with enhanced performance in these areas.
The future of PV technology
Flexible and printed thin film solar devices are next-gen PV technologies that are poised surpass these conventional PV limits. Through creative use of novel materials and manufacturing processes, flexible and printed thin film solar devices offer the potential for ultra-low-cost manufacturing via established printing and coating techniques, as well as new performance benefits that cannot be matched by conventional Si-based PV.
These next-gen devices consist of a complex stack of functional material layers on the scale of nanometers to just a few microns thick. Each layer plays a critical role in converting light into free electrical charges, and then transporting those charges out of the device where they can be used as electricity. In general, the device stack consists of a transparent conductive top electrode, a hole transport layer, a photoactive layer, an electron transport layer, and a bottom electrode, though the materials and order of these layers can vary.
Photoactive polymers and perovskite materials have received much attention as photoactive layers in these devices. Both materials offer the potential for lightweight, flexible devices, with low-cost solution-processed manufacturing. Polymers are often favored for semi-transparent devices and indoor light recycling, while perovskites are being increasingly coupled with conventional Si-based technology for high-performance tandem PV modules.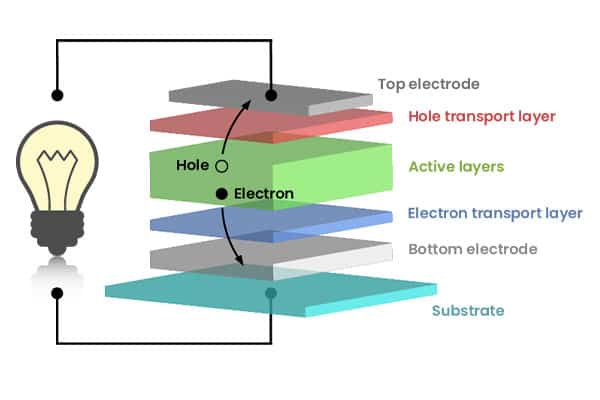 Manufactoring next-gen PV devices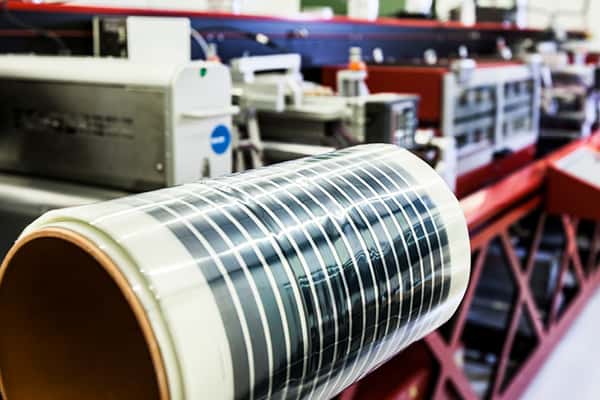 Regardless of whether such devices contain polymers, perovskites, quantum dots, or a combination of these, scalable manufacturing of large area devices at high throughput speeds is critical to realizing their benefits in our energy infrastructure. Slot-die coating is therefore a frontrunning solution for manufacturing these next-gen PV technologies via roll-to-roll and sheet-to-sheet production lines, offering an unmatched combination of precision, control, and scale in high quality thin film coating applications.
We look forward to discussing how these benefits can help you develop and implement the next generation of solar technology!
Want to learn more about our products?
Everything you need to know about our products and the benefits of slot-die coating such as film thickness control and film quality control. Download our Product brochure (PDF) by filling in the form below.